Project results
"LANDED (CADASTRAL MAPS) – A PILOT"
A report by John Angus
It is not easy to obtain information about landownership in England.  Most other countries in Europe, and the USA, have an easily accessible cadastral map, that is a map of landownership, but the UK does not.  
Following our "Landed (Freeman's Wood)" project, I thought it would be an interesting next step to explore landownership mapping, and so planned a project to commission artists' cadastral maps. The maps would show both current and historical ownership, so would be layered, showing change over time. 
I had learnt enough to know that it would not be easy to gather the information necessary to produce such maps, so I proposed to conduct a pilot project, to test out what information is available and how to find it.  Funding applications to Arts Council England and the Landscape Research Group were successful, and the idea became "Landed (Cadastral Maps) - a pilot".
For our sample plot, I selected a rural east-west slice of North Lancashire, from the sea coast at the remains of Cockersand Abbey, across to the moorlands at the Trough of Bowland. It lies between the Ordnance Survey northing lines 52 to 55, and easting 40 to 63.  This is about 14,000 acres, roughly 12 miles from west to east, 1¾ miles north-south.  Maps showing the general location of this area are here, and a specific one is here. 
I commissioned two artists to work with me – Layla Curtis and Rebecca Chesney. There was no intention to produce any artworks at this stage, simply to research the sources of information which might be available.
The research process
We investigated and explored sources and methods which would be required to produce artists' cadastral maps of the area.  This involved seeking information about land ownership, both current and historic.  
For historical information we searched various archives. We looked at documents and maps in the archives at Lancashire Record Office, Lancaster University, the University of Central Lancashire, and the National Archives in Kew. We searched on line documentation, particularly history websites eg British History Online. 
.
We focussed on those documents which included maps of landownership. There is information about landowners in the area, starting before the Norman Conquest, but it is not accompanied by accurate maps until relatively recently. The earliest we found was an estate map of 1670, which closely matched a contemporary OS map. We discovered that estate auction sale documents were very useful, as they come with maps and full details of the plots for sale. We also looked at the records of the 1910 survey of landownership. This has maps of landownership plots, together with record books which list the owners and various details about each plot. The images above show a few examples of the documents we found - click to enlarge.
For contemporary landownership we obviously went to the Land Registry.  Geographic Information Systems software enabled us to use online information from the Land Registry to create a map showing all the landownership plots (over 700), referred to as 'polygons', in our rectangular area. Some of these irregularly shaped polygons extend far beyond the confines of our patch.

The Registry charges a small fee for information on the ownership of each plot, and we did not have sufficient funds to pay for them all, so we narrowed down our selection to an affordable number, about 200 plots, and produced a map of those.
Theoretically, it is possible to submit such a map to the Land Registry, and for them to supply a file in return which shows the ownership of each plot. Unfortunately, we had great difficulty in obtaining this information from the Land Registry, and despite much effort, and support from other people, we did not obtain as much data as planned, or in the format sought.  After spending a lot of time on this approach, we finally decided to take the basic option of purchasing information on individual plots, one by one, on the LR website. We bought data on 50 plots in this way, distributed across our selected area, which gave a partial picture of current ownership.
Further information was obtained simply by walking and cycling across the land.  I walked most, if not all, of the public footpaths in the area. It's a great way to understand the lie of the land.  I also talked to several local amateur historians, who provided lots of interesting details. Guy Shrubsole who writes a blog called 'Who Owns England?' and has now published a book with that title, supplied some information he had found about landownership in Lancashire. 
Geographic Information Systems
As part of the project, we acquired basic knowledge of Geographical Information Systems (GIS) software software and Python programming.  We knew that this could be used for creating multi-layered maps with text and images, so would be an invaluable tool.  Also, it has been essential for obtaining, understanding and manipulating information from the Land Registry about landownership in the area.   All the LR data is in this format, and requires use of this software to access it, if information on more than a few individual land parcels, or polygons as they are designated, is required.  
A summary of our research findings
From these various sources we pieced together an outline description of the history of landownership in our patch.  As might be expected, the main landowners were the occupants of the major buildings.  So a convenient way to present the history of landownership in our area is through these buildings. 
The following account goes from west to east.  

Cockersand Abbey
The oldest building, situated on the coast, is the remains of Cockersand Abbey.  Now merely a tiny ruined remnant, this Premonstratensian monastery was founded in 1190. It occupied a narrow strip of land along the coast between the estuaries of the rivers Cocker and Lune.  The abbey was third largest in what is now Lancashire and, like all monasteries, it became a major landowner, holding plots of land from Cumbria to Salford. All this was lost in 1539 in the dissolution of the monasteries. In 1543, the abbey site was bought by John Kychen, of Hatfield in Hertfordshire.  
Thurnham Hall 
This building dates back to the twelfth century, starting as a peel tower. It was extended and was owned by various families including the Flemings, Bonvilles, and Greys. In 1553 the whole estate, and the manor of Thurnham, was bought from Henry Grey, Duke of Suffolk, by Thomas Lownde, of London.  In 1556 he sold it to Robert Dalton of Bispham Green, near Parbold, Wigan.  Dalton married John Kychen's daughter, Anne, and acquired the Cockersand abbey site as her dowry.  He acquired further local estates, becoming a major landowner in the area, including Aldcliffe, Bulk, and part of Lancaster. The family and its members are still recorded in the names of Dalton Square, and the streets adjoining.  As royalists and catholics, the Daltons briefly lost their estate in the Civil War and again in the Jacobite rebellion, but succeeded in regaining it.  The estate was passed down through the family, despite a frequent lack of direct male heirs, but was apparently gradually sold off during the 20th century.  Daltons lived in the Hall until the 1970s, when it was sold to Stanley Crabtree. The last Dalton died in 1983 and the remainder of the estate was sold.  The hall is now a holiday resort, owned by an American company, with a leisure centre and time-share holiday apartments in the grounds.
                                                               .
Going east, the next large building is Ellel Grange, on the site of one of the granges of Cockersand Abbey. Richard Atkinson and family lived here in the early 19th century.  William Preston, a merchant and Mayor of Liverpool who wanted a country house, bought the land and built a new house in 1857-9.  The Preston family had owned land here in the 1500s but, as they were royalists, it was confiscated in the Civil War. Several generations of the family lived in the new house until the 1970s.  The Land Valuation records of 1910 show that the Preston family had acquired a lot of land in the vicinity by that time.  The Sandeman family, of port wine fame, married into the Prestons, and owned the house and around 1000 acres until 1979, when it was sold. It is now a religious retreat.  
Next is Wyreside Hall, occupied in the late eighteenth century by John Fenton Cawthorne (1753-1831), who in 1781 inherited a lot of land from his mother's family, the Cawthornes. In 1639 William Cawthorne had bought the four vaccaries, or ancient cattle pastures, of Abbeystead, Marshaw, Dunkinshaw, and Haythornthwaite, plus part of Tarnbrook.  As his descendant, Fenton Cawthorne became a major landowner in the area. He carried out extensive improvements from 1798 onwards by inclosing, draining and applying lime.  He built Wyreside Tower, high on the moors. He also owned property in Lancaster including a house on the site of the recent main post office, bordered by Fenton Street and Cawthorne Street. The entranceway to this house is now the archway at the rear of The Storey. 
In 1778 Fenton Cawthorne had married Frances Delaval, the daughter and co-heiress of Sir John Hussey Delaval of Seaton Delaval, in Northumberland, who brought a substantial dowry.  Nevertheless, he seemed to be constantly in debt and was accused of embezzlement. He was MP for Lancaster three times from 1806-31.  When he died in 1831, without heirs, John Fenton Cawthorne owned about 6000 acres stretching from Ellel to Abbeystead, and covering more than half of our plot.
The purchaser of Wyreside Hall and most of Fenton-Cawthorne's land, was Robert Garnett, from Manchester, who had made his fortune in cotton and the railways.  The Garnett family acquired more land in our area, having about 12,000 acres in 1876.  Some was later sold, but in 1910 they still owned land around the Hall, plus Corless Mill, Pinnington and Redmond Wood, the Fleece Inn at Dolphinholme, and several more plots. The hall stayed with the family until 1936 when it was sold at auction.  Since then it has had various occupants, and is now being developed as a hotel by a company which is based offshore. 
Abbeystead House
The Garnetts sold some of their land in 1885 to the fourth Earl of Sefton, William Philip Molyneux, who built Abbeystead House in 1887.  The Molyneux family had owned land in this area previously, being lords of the manor of Ellel from about 1600-1770.  Abbeystead House was originally intended as a shooting lodge, based in the middle of grouse moors, but it became the family home after they left Croxteth Hall near Liverpool.
By 1910 the Earl of Sefton had acquired more land creating a large estate including Abbeystead, Dunkenshaw, Tarnbrook, Marshaw and Whiteside, Haythornthwaite, Catshaw, Wyresdale Estate, and Over Wyresdale Fell.
The Seftons lived at Abbeystead House until after the death of the 7th Earl in 1972, and his wife in 1979, when the estate was about 20,000 acres.  
It was bought by the Duke of Westminster, who still owns it, via the Grosvenor Estate. The Abbeystead estate is now estimated to be about 25,000 acres, including several farms and other properties.  Its area is nearly twice as big as our slice, occupying most the eastern end of it, plus a lot more to the north and some to the south.  A map of the estate placed on top of the ownership plots map of our area shows its relative size and location.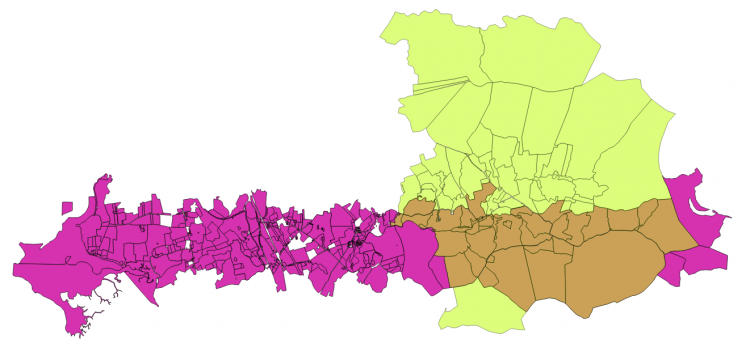 Lentworth Hall and others
Also in upper Wyresdale, and a smaller house, but a significant landowner, indicated by an estate map of 1653. It was acquired in 1686 by Richard Shireburne, and later owned by the Tunstalls, Weld, and Allen families, and in the mid 19th century by the Leemings of Lancaster. This family also had a house in Lancaster which is now the Greaves Park Hotel.  Sale details of 1918 show that the Lentworth estate covered 833 acres, including eight farms.
Several farmhouses in Upper Wyresdale are 17th century and substantial, Catshaw and Swainshead Hall being notable examples, but their occupants may all have been tenants of the Abbeystead estate..
Wyresdale Park, with mansion, is outside our patch, but its owner in 1910, Peter Ormrod, owned substantial land in the area including Wyresdale Fisheries.
Another significant landowner in our slice, but not based in a building, is the Duchy of Lancaster, that is the Queen.  It seems that the Duchy bought some of the Garnett's land.  The Duchy shield is displayed on the name-plates of several farms, fisheries, and woodlands, near Dolphinholme and along the River Wyre, including Corless Mill, Bantons Farmhouse, and Redmond Wood.  The Land Registry data confirmed these observations.  The screen grab below, from MARIO maps, shows the section of the Duchy's Wyreside estate which lies within our study area.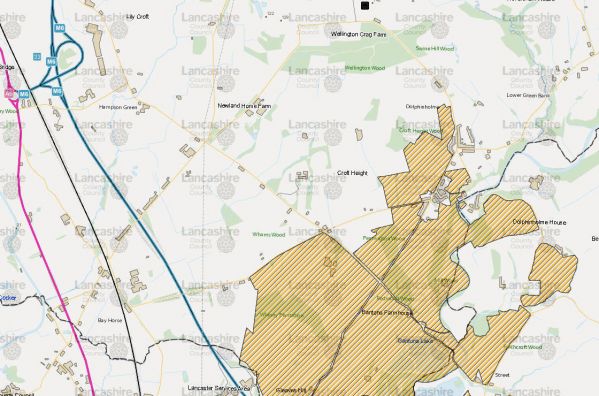 The Duchy also owns the land around the coast up to the mid-high tide line, shown by the strange shapes at the left of our red ownership plots map.
In this short account of the history of the occupiers of these buildings in our study area, it is noticeable that although these were once family homes, all have now been converted to other uses, except for Abbeystead House.
Next Steps
This pilot project has enabled us to produce an outline of landownership in our selected area, and its change over the past few centuries.  We have learnt that there is a wealth of information available on the history of landownership in this area, indeed the task of collecting it is much larger than we anticipated, and we have only scratched the surface so far. 
We hope to obtain funds to build on this pilot and gather more details, possibly using the 1910 land valuation survey as a comprehensive baseline. Our aim is to produce artists' cadastral maps, layered to show change over time, as a demonstration example of landownership history in the UK.