A film by LINDER
This exhilarating film has been described as a display of human sexuality, lunacy and chaos - as if the Sugar Plum Fairy had woken up to find herself in Heironymus Bosch's Garden of Earthly Delights.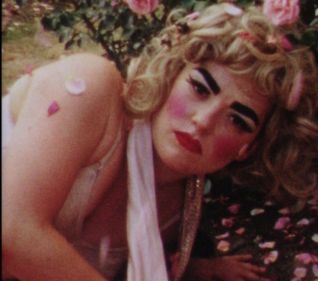 Forgetful Green is based on a 13-hour improvisational performance which Linder presented at Glasgow International Festival of Visual Art, and at Chisenhale Gallery, London, in 2010. On a very hot summer day after their marathon performance, the cast, including a Star, a Muse, Puella Aeterna, a Witch, and a Cakewalk King and Queen, were filmed in the rose field of Cants of Colchester, the oldest rose growers in Britain. In this glaringly vivid dream-like landscape, the film plays with the archetypes of glamour in all its guises, from beauty queens to witches. The film's title comes from The Pilgrim's Progress by John Bunyan (1678) where Forgetful Green is described as 'the most dangerous place in all these parts'.
Forgetful Green was commissioned by Frieze Foundation and Channel 4 in 2010. 
Cinematography is by Vogue photographer and film-maker Tim Walker, costumes by fashion designer Richard Nicoll, and music by Stuart McCallum. 
Linder's ideas for the film were developed during a Storey Gallery InsideOut artist's research commission in 2008-09. 


Linder was born in Liverpool in 1954, and now lives and works in Lancashire. Over the past three and a half decades, Linder has consistently and uncompromisingly embraced radical feminist perspectives, and has used and explored the medium of collage to trace the pervasive commercial exploitation of sex and gender.  She has exhibited internationally including Tate, Baltic, PS1 New York, and will have a retrospective at Musée d'Art Moderne, Paris in 2012.
Dates:  25 August – 24 September 2011
The film is supplied courtesy of LUX 
LIVE MUSIC EVENT
8pm Friday 23 September
Storey Gallery is funded by: Arts Council England, Lancaster City Council, Lancashire County Council