improvisation in response to 
FORGETFUL GREEN - a film by LINDER
with
Stuart McCallum: guitars 
Maxwell Sterling: double bass 
Steve Hanley: drums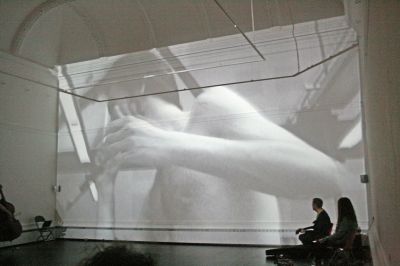 Stuart McCallum
Best known for his work with The Cinematic Orchestra, Manchester guitarist Stuart McCallum's music is 'alternative jazz' – a distillation of influences, creating a sound that is concentrated and distinctive.
Stuart has released three solo albums - 'Echo Architect', 'Stuart McCallum', and 'Distilled'. He performed on, and contributed to the writing of, Cinematic Orchestra's critically acclaimed albums, 'Ma Fleur' and 'Live At The Royal Albert Hall'. He wrote a suite of music for Manchester Jazz Festival in 2010, which was performed live on BBC Radio 3′s 'Jazz On 3′, and was so well received that it was included in the programme's 'Best Of 2010′ review show.
Stuart has performed and recorded with some of the most prominent jazz artists of today, including John Surman, Kenny Wheeler, Mike Gibbs, Gwilym Simcock, Tim Garland, Laurent Robin, and Laurent De Wilde.
Over the past two years Stuart has worked closely with internationally acclaimed British artist Linder. 'The Dark Monarch', performed at Tate St Ives in 2009 resulted in a Tate DVD and book to document the piece. The 13-hour improvised performance piece, 'The Darktown Cakewalk', performed at the 2010 Glasgow International Festival resulted in Stuart being awarded a nomination for 'Best Music in Theatre in Scotland' by the Scottish Theatre Critics Association. He wrote and played the music for her film, Forgetful Green. Stuart and Linder collaborated to create a visual'soundtrack' to Stuart's 'Distilled' album launch.

"Guitarist Stuart McCallum's compositions are exemplary of everything that is exciting about new British jazz." Jazzwise, UK
"Simple, understated, and hypnotic, he had the audience locked in and silent… Living proof that less is more." Jez Nelson, Jazz on 3, BBC Radio 3



This live event will celebrate Storey Gallery's current exhibition of Linder's remarkable film, FORGETFUL GREEN, which finishes on Saturday 24 September.   Forgetful Green 

Also showing is The Darktown Cakewalk: Celebrated from the House of FAME , a film directed by Daniel Warren (2010). Commissioned by The Work Room and Sorcha Dallas, this black and white film is about the improvisational development of the performance by Linder at Glasgow International 2010. 
Daniel Warren is an award-winning filmmaker whose music videos and short films have been broadcast and screened at festivals across Europe and the USA, including international film festivals in Cannes, Naples, Zurich and Edinburgh.
Over the past three and a half decades, Linder has consistently and uncompromisingly embraced radical feminist perspectives, and has used and explored the medium of collage to trace the pervasive commercial exploitation of sex and gender. She has exhibited internationally including Tate, Baltic, PS1 New York, and will have a retrospective at Musée d'Art Moderne, Paris in 2012.
Date: 23 September 2011