Paul Rooney
Storey Gallery jointly commissioned, with Litfest, a text-based art work by visual artist Paul Rooney for the 1st floor corridor of The Storey. It was installed in 2011.
At that time, Storey Gallery and Litfest were the two arts organisations based in the The Storey, and our respective offices, and the gallery, shared the grand first-floor corridor of the building. To reflect the work of both organisations symbolically, we co-commissioned this text work by visual artist Paul Rooney.
It is centred around a supposed artwork consisting of the two names of ancient Greek representatives of writing and sculpture - Homer and Hephaestus. The fictional installer of this artwork has apparently overstepped his brief and added a series of footnotes, spiraling out across the surrounding walls, creating a complex and humourous narrative.
January – March 2011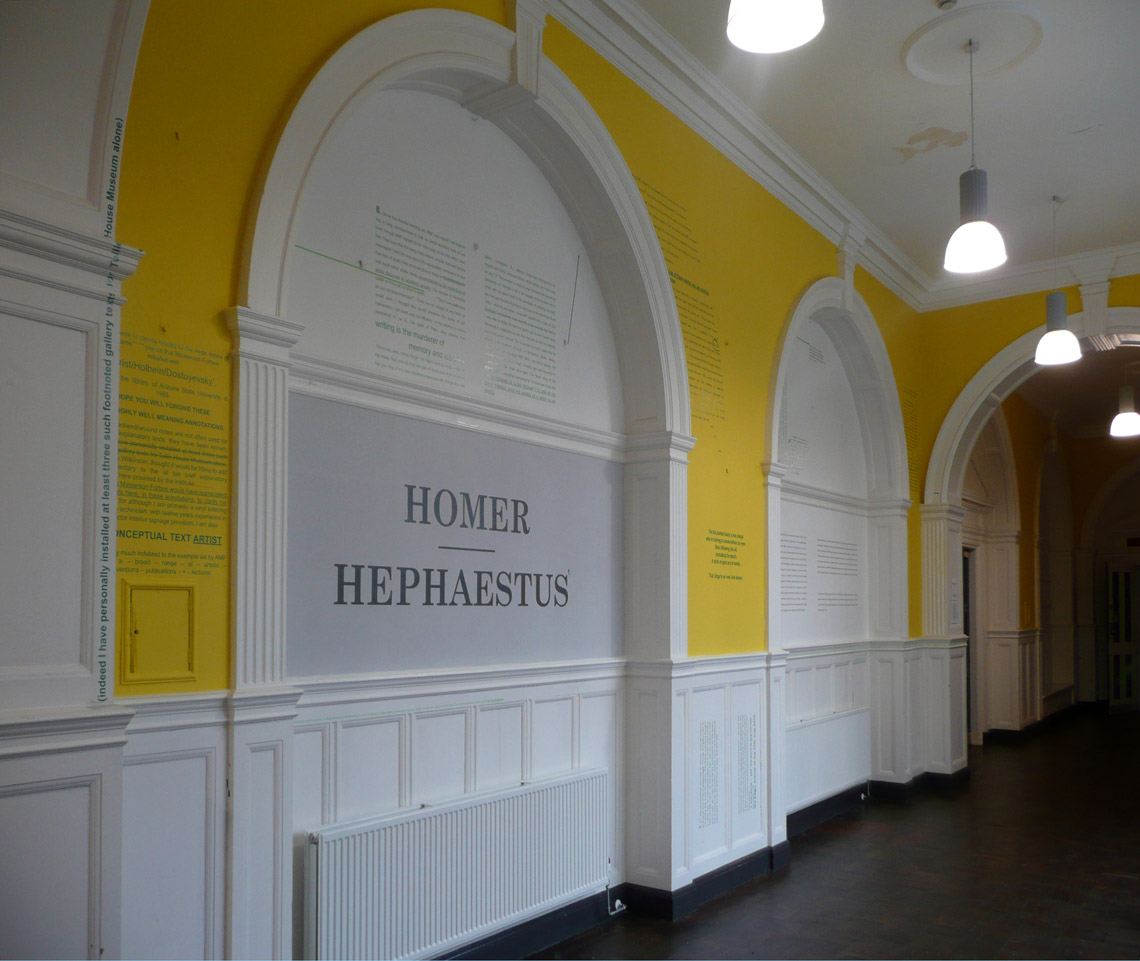 Paul Rooney works in a range of media including film, video, sound, and text . Storey Gallery exhibited one of his recent films, La Decision Doypack, in the gallery in 2009. His works often deal with the historical past as recollected by real or fictional individuals, and are heavily layered with cultural references that immerse the viewer in a complex world of reality and artifice.
Rooney lives in Liverpool, where he was born in 1967. He is a prolific artist with an extensive track record of worldwide exhibitions, residencies, and fellowships. He has had solo projects at Ikon, Birmingham; Cubitt, London, and Matt's Gallery, London; and he has participated in group shows at Tate Britain; Tate Liverpool; Kunst-Werke, Berlin; Galeria Casa Gaia, Havana; Museo Reina Sofia, Madrid; and the touring exhibition British Art Show 6. In 2008 he was winner of the second Northern Art Prize.