There is no alternative (TINA)
Artists: Pablo Bronstein, Melanie Gilligan, Anja Kirschner & David Panos, Ciprian Muresan, Goldin + Senneby, Unnar Örn, Olivia Plender
In the 1980s, Margaret Thatcher made the notorious statement 'There is no alternative'. This slogan, shortened by the hard right to TINA, suggests that free markets and capitalist globalisation are the only viable economic and political model for a successful modern society.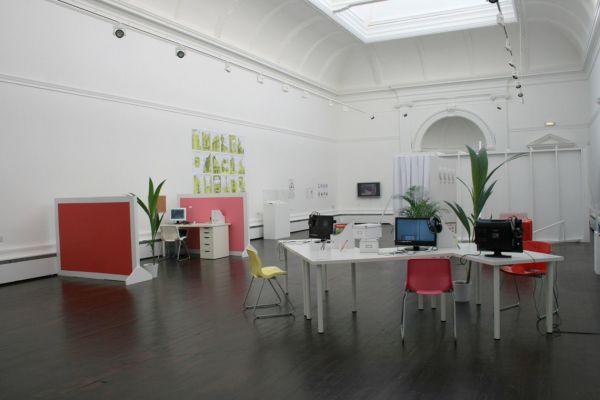 Working in a wide range of media, from films to text and drawing, the artists explore how the political and economic developments of the 1980s have subsequently permeated all corners of experience and social relations, from the global banking system to cultural production. These artists, based in the UK, Sweden and Romania, reflect upon these effects from different geographical vantage points and multiple historical perspectives.
The gallery is filled with office paraphernalia - desks and chairs, plants, computers, and room dividers. Dotted amongst the Ikea furniture, rubbish bins, and pencil pots, are posters, video screens, projections, and drawings.
The exhibition is presented with a sense of humour, but deals with complex issues. It contains several lengthy video pieces and so requires some time to absorb fully. Visitors may like to put aside an hour or two to enjoy all the work, or plan to visit several times.
There is no alternative (TINA) is an exhibition initiated by the artist Olivia Plender, which began at The Drawing Room in the east end of London, less than a mile from London's financial district, known as 'the City'. It has since been shown at the Hatton Gallery in Newcastle, Konsthall C in Stockholm, and now at the Storey Gallery in Lancaster.
Exhibition conceived by Olivia Plender in association with The Drawing Room gallery, London.
Produced at Storey Gallery by Suzy Jones.
Dates: 1 June – 24 July 2010