Strange Days and Some Flowers
A group show of strange and uneasy work by Dan Baldwin, Don Brown, Laura Ford, Matthew Houlding, Robin Mason, Jock Mooney, Mika Rottenberg, John Stark, and a new commission by Graham Hudson.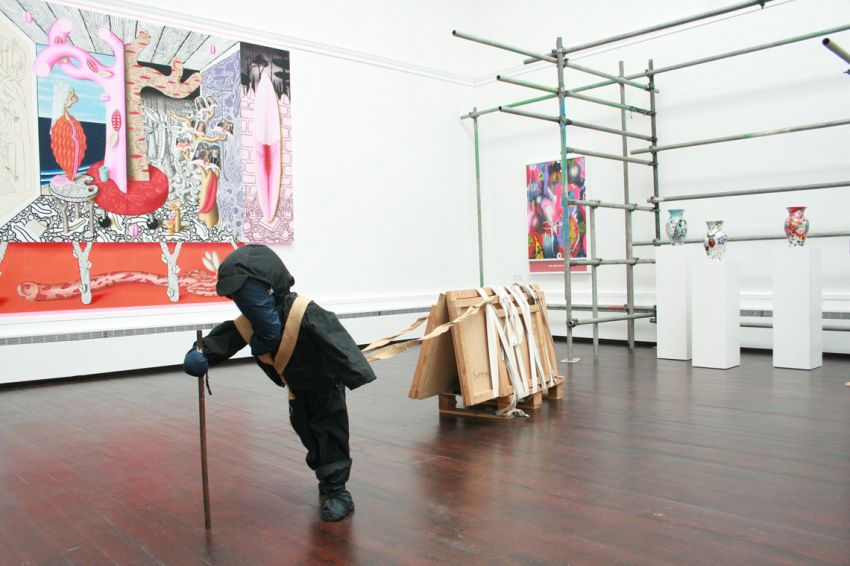 Strange Days and Some Flowers has no 'theme', no curatorial thread, and no sheet of A4 'interpretation' to help you navigate through the space in a linear, formal manner.  
Instead you are invited into Graham Hudson's partially occluding maze, catching a frustrating glimpse of John Stark's spooky bee-keepers, metres away but not quite reachable. Several slightly disorientating minutes later, you're sharing an intimate booth of steel with a couple of Don Brown's alluring Yoko's. One shrouded, one stood elegant and proud in her pants, vest and platform shoes. In the considerably sparser second gallery, Mika Rottenberg's Tropical Breeze plunges you into a unique world of sweat, transportation, and the odd naked man in running shoes.
Strange Days and Some Flowers is a jumble of utopian propaganda, religious multiplicity, and enigmatic beautiful characters. The funny, the disturbing, and the outright bizarre. Reflecting the complexity of our world, simultaneously unsettling and humourous, terrifying, strange, and amusing.
This exhibition re-launches the newly refurbished Storey Gallery. It's a celebration of the diversity of contemporary art practice, an exemplar of ambition, and beacon of things to come.
Curated by Storey Gallery
Dates: 13 July – 3 October 2009