The Oyster Effect 
2010 12mins51sec
Valentina Ferrandes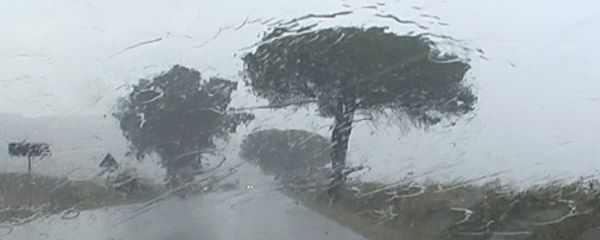 This film is a collage of narrating voices over images of architectural spaces and landscapes. The voice-overs include a reading of a letter written by a young lady who was diagnosed with hysteria by Freud, which describes one of the symptoms of her illness, her temporary inability to speak her mother language. The letter is played firstly over images of an early 20th century modernist building, and then of the Church of San Pietro and Paolo, in Galatina, southern Italy, dedicated to the cult of Saint Paul and Tarantism. The journey continues with a long shot of a car traveling through a semi-deserted landscape, hit by heavy rain, and accompanied by the voice of the architect Le Corbusier lecturing on planning for the industrial city. Later, shots of mentally unstable women in altered states of consciousness, being treated through dance in San Paolo's church in Galatina, are accompanied by fragments of a love story.
The film refers to the condition known as Tarantism which was common in southern Italy. It produced heightened excitability and restlessness in the victims, and it was believed that they needed to engage in frenzied dancing to prevent death.Their dancing and public meetings were held in the chapel of Saint Paul.
Valentina Ferrandes investigates the relationship between built environments and individual and collective identity. Using video, photography, and narration, she explores architecture as a performative and contextual space where the shaping of individuality stems from conflicts related to economic power, social roles, cultural specificity, and linguistic identity.
Italian, based in London, working with video and photography. 
Studied Art, Music and Drama at Bologna University, and graduated in Fine Art at Chelsea College of Art and Design, 2009. 
In 2008 she took part in a residency at China Academy of Art, Shanghai
Her work has been exhibited widely in Europe and UK. 
In 2009 and 2010 she was a finalist for Matt Roberts Salon Video Prize, Salon Photo Prize, Celeste Prize, and Renaissance Arts Prize. 
In 2011 "The Oyster Effect" has been included in the Biennial of Young Mediterranean Artists, and will be exhibited in the Museum of Contemporary Art Rome in December.
http://www.valentinaferrandes.com/
http://www.valentinaferrandes.com/theoystereffect.html
Taxi III - Stand up and Cry Like a Man 
2010 3mins34sec
Lisa Byrne
Taxi III compiles interviews with taxi drivers who reveal, through their direct accounts of violence, the historical scars of the Northern Irish experience. Seen in tight shots, mostly sitting in cars, the men speak cryptically yet frankly of their near-death experiences and the aftereffects. It was one of 25 videos selected by YouTube Play from over 23,000 entries for the first Biennial of Creative Video at the Guggenheim Museum.
Lisa Byrne works mainly in photography and video. Her work centres on human experience, taking an intimate path into the lives of those with whom she has a personal relationship.
Exhibiting internationally since 1995, Byrne's solo shows include: Mars Gallery, Moscow (2004), Four Corners Gallery, London (2008), and Krakow Photo Month's Great Expectations: Photography from Great Britain (2010).
Major group exhibitions include: A Biennial of Creative Video at the Guggenheim Museums world wide in association with You Tube Play (2010); Elective Perspective, Galeria Arsenal, Bialystok, Poland (2010); Salon Video Art Prize, London (2010); A View from Napoleon's Nose, KYU Arts Center, Taiwan (2010); On Time, Courtauld Institute of Art, London (2009); Isolated, Golden Thread Gallery, Belfast (2008); and Body City - Video Apartment 20, Docklands, Dublin (2007).
Born 1973 in Northern Ireland, currently based in London.
MA in Photography Royal College of Art, London 2007.
BA Middlesex University, London 1996
www.lisa-byrne.co.uk/
Reconsidering The New Industrial Parks Near Irvine, California by Lewis Baltz, 1974 
2009 13mins
Mario Pfeifer
Reconsidering revisits one of the industrial structures which the artist and photographer Lewis Baltz documented from the outside. This film depicts the interior of one of metal workshops with an eleven minute tracking shot. At the same time, the 1974 book by Baltz, The New Industrial Parks Near Irvine, California, is reconsidered from back to front, each turning page presented beside the continuous 16 mm black and white footage.
The voice-over is an interview with J.R. Billington, a company owner in this building for nineteen years, in which he discusses the socio-economic situation in military manufacturing in Orange County in the 1980's and today.
http://www.ahornmagazine.com/issue_7/werecommend_baltz_pfeifer/werecommend_baltz_pfeifer.html
Mario Pfeifer - selected exhibitions and screenings
Los Angeles County Museum of Art, Los Angeles; KOW Berlin; KW Institute for Contemporary Art, Berlin; Frankfurter Kunstverein; Zollamt/ MMK, Frankfurt am Main; Anthology Film Archives, New York; MoCA, Detroit; Museum of Art and Design, New York; Waseda University, Tokyo; Landesgalerie, Linz; Les Rencontres Internationales, Centre George Pompidou, Paris; Temporäre Kunsthalle, Berlin; Salon Video Art Prize 2010, London; Museum Folkwang, Essen; European Media Arts Festival; KunstFilmBiennale, Cologne; World Film Festival, Bangkok; and many others.
Born in 1981 in Dresden, Germany. Lives and works in Berlin and New York
Studied at Academy of Visual Arts, Leipzig (HGB); University of the Arts, Berlin (UDK); and graduated in Visual Art and Film at Städelschule Frankfurt in 2008. 
Fulbright scholarship at California Institute of the Arts, Los Angeles 2008/09. 
Grants from Goethe Institut and DAAD led him to Bangkok, Mumbai, and New York.
http://www.mariopfeifer.com/
Movement in a Minor Familiar (Schubert Tape) 
2010 5mins30sec
Holly Antrum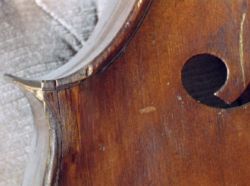 The structure of this film is set by limitations which the artist has imposed on her technique and material. The images were shot with a wind-up 16mm Bolex movie camera, which is unable to capture more than 10 seconds at a time, so the film is visually made up of many sections. The sound-track is from a tape she found, labelled 'Schubert', which is a recording of her long deceased grandfather rehearsing a speech alone in his native Czech, a language she did not understand. Rather than providing a sub-title translation, she allows this language barrier to impose a sense of separation, inviting our attention to move with the images. We are further separated in our own 'watching' in that we see and hear another audience within the film as they make focal adjustments to a projector and commence a slide show.
Holly Antrum works in film and printmaking. She uses darkroom experiments and her digitized archives of photographs and recordings, art history, and her own life.
Group exhibitions include: 
2010-11 New Contemporaries 2010, A Foundation, Liverpool and ICA, London
2009 Summer Exhibition, Royal Academy, London
2007–08 Jerwood Drawing Prize 2007, Jerwood Space, London and tour to Cheltenham, Glasgow, Bristol, Cardiff and Newcastle
2006 New Contemporaries 2006, A Foundation, Liverpool & Rochelle School, London
2005–06 Jerwood Drawing Prize 2005, Jerwood Space, London and tour to Cheltenham, Glasgow, Cardiff and Bournemouth
Born London, 1983. Lives and works in London.
MA Printmaking at the Royal College of Art (2009-2011)
BA Hons Fine Art Painting at Wimbledon College of Art (2002-2005)
http://www.hollyantrum.com
Dates: 7 November – 1 December 2011