ED PIEN
The exhibition, Memento, is a walk-through environment created from knotted ropes, paper-cut silhouettes, video projections, rotating mirrors, sand-bags, shadows, and sound. In the dim light, the visitor plunges into another world, navigating their way amidst the shadows beneath a rope net canopy, while projected images spin around the gallery walls.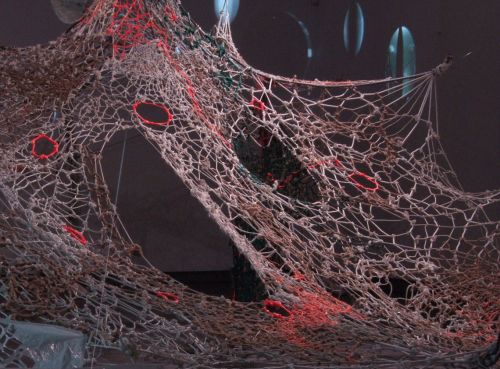 The artist Ed Pien was born in Taiwan and moved to Canada aged 11. Memento was developed from his research into the plight of illegal immigrants who often take great risks in the hope of achieving a better life. These people often have to live 'ghost-like', hidden from society, such as the Chinese cockle pickers in Morecambe Bay, the 'Faujis' from India living in the UK without identities, and the thousands of North Africans who try to cross the Mediterranean in small boats, some of whom perish on the way.
Memento poignantly reflects on the displaced, forgotten, and unseen. It is a continuation of Pien's interest in the otherworldly, invisibility, disappearance, and journeys.

Ed Pien has exhibited internationally including the Drawing Centre, New York; La Biennale de Montreal; Centro Nacional de las Artes, Mexico City; The Goethe Institute, Berlin; and Himalya Art Gallery, Chongqing, China.
Memento was commissioned by the Chinese Art Centrein Manchester.
This exhibition is a contribution to Lancaster Chinese New Year Festival in partnership with the Hua Xian Chinese Society.

Dates: 5 February – 2 April 2011