A pair of exhibitions about the human body
9 February – 21 March 1998 
Body Visual
Featuring works by artists:
Helen Chadwick
Letizia Galli
Donald Rodney

The artists had been commissioned to create new works inspired by medical science, with the advice and technical collaboration of a medical scientist, and with the aim of bringing an artistic perspective to key areas of medical research. 
A touring exhibition by Arts Catalyst
Including "In the House of My Father" by Donald Rodney
Further information about the exhibition at Body Visual, and about Helen Chadwick's contribution at Arts Catalyst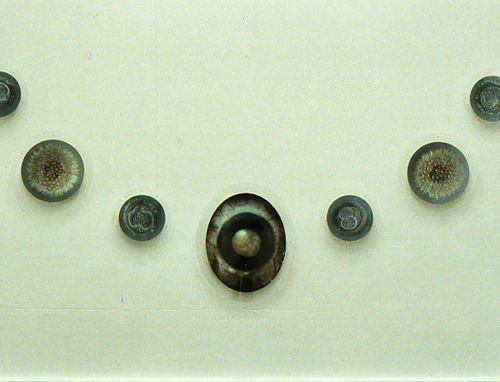 Image : Helen Chadwick "Nebula"
Inside Information - Imaging the Human Body

Images of the interior of the human body produced by some of the world's finest scientific image-makers. 
The stunning full-colour images in the exhibition have been selected for their aesthetic qualities as well as for their scientific information content. Fifty images are presented as back-lit slides in specially constructed wall-mounted light boxes and one free standing pillar.
The exhibition is based on a book by William A. Ewing (Thames and Hudson 1996).
A touring exhibition by Wellcome Trust.